Milan Weather Forecast

Guided Tours

Service Evaluation

Museum Information

Exhibitions

Entertainment

Restaurants

Train Schedule

Road Maps

La Scala Tickets

Last Supper Tickets

The Brera Gallery Tickets

Palazzo Reale Tickets

Map of Milan

Site Map

About Us

Legal Notices

What our customers say about our services


Thank you Jolanta for the great service. Davide was an excellent guide. His knowledge of the city, it's history and art history was outstanding. We enjoyded walking and listening extraordinary stories. It was fun and also one of the most memorable day in our life. Thank you, Milan Guide Services, for excellent service. Visited October 2012
Dawn M.(USA)
Our stay in Milan was made memorable by Milan Guide Service's excellent service from the first email response to the end of a great and fun day. Not only did Jolanta help us with tickets to the The Last Supper she and her staff went above and beyond helping us with coordinating tickets to Monza, a service clearly apart of their tour service. They made sure the tickets arrived securely at our hotel. Our guide, Andrea, was extraordinary. His knowledge of Milan, it's history, it's noteworthy historic locations, art history, insights into the dynamics behind the city's development, main characters and nuances of the culture...even restaurant recommendations was outstanding and communicated with a professionalism that was paced to our needs and our interests. He listened, understood our interests, made sure we were happy with every step...and he was fun. We think that our experience speaks volumes to Jolanta's organization as a whole. Visited September 2012
Russell S.(USA)
Buongiorno, I wanted to tell you that Davide was an excellent guide, and a most enjoyable man. We have traveled a great amount, and enjoy walking tours and seeing cities and places through the eyes of those who live there even when it is a place we think we know well. Davide is among the very best we have ever met. Thank you. Paul
Paul S.(USA)
Thank you, Jolanta, for wonderful tour. Vittorio was excellent. We enjoyed the tour very much.
Kim (New York)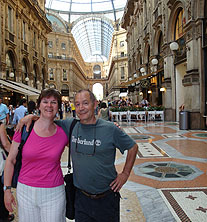 After another week of intense data analysis activity, I was able to relax again when Carolyn arrived for a return visit. The weather was very different from her last visit in November, as this was the hottest May weekend on record. We spent a lot of time in bars and cafés taking on much needed liquid refreshment - and this is Carolyn discovering the best Dark Chocolate ice-cream I have ever tasted, in Chocolat.

On Sunday, we managed to cope with the heat and have a guided tour of the Castello and central Milan with Vittorio Daino - The best guide in Lombardia; if not Italy - I can give you his number if you are ever in Milan - he was brilliant!!! Here we are in the Galleria.
Deborah Roberts, UK
Milan Guide Service set up an outstand tour of the Last Super. The guide was so knowledge and explained so much about the painting and the Church. It made us want to go again to pump more knowledge out of the guide. Highly recommend, this to anyone who wants to go see the Last Super and get the details versus just looking at the painting.
Ken G (Las Vegas, Nevada)

During our study journey through Milan and his surroundings we participated in the historic, artistic tour of Milan, which was fabulous organized by Jolanta. Vittorio Daino, the guide of Milan Guide Services leaded our business relations, existing out a group of 15 men, along many impressive and beautiful monuments and museums in Milan. We met Vittorio in front of the main entrance of the Castello Sforzesco, where our journey started. In the Castello Sforzesco we enjoyed the intriguing painting "painted garden" by Leonardo da Vinci and learned a lot about the impressive history of the city Milan and his former rulers. We continued our journey with a visit to St. Maurizio church where we admired the impressive frescoes on the building. After that it was time for some fashion and music sight seeing; we walked along the Scala theatre and passed through the Galleria with her exclusive shops and boutiques. The historic, artistic tour ended with a visit to Duomo, Milan's Gothic Cathedral and his roof terrace where we admired the statues, the spires and the flying buttresses that decorate the roof.
All in all Milan Guide Services brought us a day full of history and wonderful sights of Milan.
Evelyne Kulk for Atotech the Netherlands
We read with great trepidation about how difficult it is to get in to see the Last Supper and even if you are lucky enough to get in, how do you know what you are seeing?  So, when we discovered Milan Guide Services and read such wonderful things about you in Trip Advisor, we thought we would take a chance.  We are so glad we did!!  Vittorio was full of knowledge and information that made seeing the Last Supper a memorable experience.  I am sure that if we had hired him to see other sites in Milan, it would have been just as delightful. Thank you Jolanta for a great memorable experience.  
Janice Telstar, Reading, USA
My family, a group of 12, recently spent two weeks in Tuscany and Northern Italy. The highlights of our trip included tours of the Cenacolo (The Last Supper) and of the Duomo. The services received from Milan Guide Services were exceptional from booking to the actual tours totaling 3 hours. The explanations and interaction from our highly skilled and pleasant guide, Vittorio Daino, made a huge difference in our enjoyment and understanding of these Milan landmarks. Jolanta Stouten coordinated our visits with patience and responsiveness, promptly replying to a number of e-mail queries from our part. I understand that MGS is a relatively small tour agency but they certainly demonstrate dedication and personal attention.     
Louis Tanguay, Laval, Quebec, Canada.
I appreciate your website specifies that you will have to book the Last Supper tour 8 weeks in advance. We took the tour. Your guide provided us with a great tour. I am very pleased with the services you are providing. Should we have friends traveling to Milan in the future we will certainly recommend Milan Guide Services to them. Great job.
Dave and Linda Dart, Naples, Florida, USA
Thank you for taking care of us. I am very pleased with the services you are providing. Linda and I would like to thank you for introducing us to Vittorio. He provided us with a great tour, wonderful insight, and valuable information. Should we have friends traveling to Milan in the future we will certainly recommend your company to them. The rest of our guides will have a difficult task matching the quality of this day
Dave and Linda Dart, Naples, Florida, USA
We were looking for possibility to see the Last Supper fresco. We tried several travel agencies but we were informed that the tickets were sold out. I wrote e-mail to Milan Guide Services inqiering the possibility the Last Supper tour for the specific date. Jolanta wrote back that their Last Supper tours were sold out. She politely recomended to take Duomo tour instead. She wrote that personalized private tour is the most efficient way to get the most out of our visit. We were very pleased with the suggestions Jolanta provided but based on reading and web sites research we decided not to take a tour. It was big mistake. After seeing Duomo we were very, very sorry that we did not take recommended tour. Without professional guidance we could not fully understand the beauty of the Cathedral.
Clare Kelly and Veronica Jones, Portland, Oregon, USA
DaVinci's The Last Supper should of been our first!

Four of us, two couples that have been friends for almost twenty-five years spent two weeks touring Northern Italy. We planned our trip using our past travel experience to Italy four years prior, travel books, personal recommendations, and of course the Internet. If we had used The Milan Guide Services at the beginning of our trip we would of had a more informed and meaningful experience. We took a chance on using Milan Guide Services. We tried to secure tickets in advance through our Milan hotel. We were informed that The Last Supper was sold out for the time period that we would be in Milan. That was very disappointing. But I decided to take a chance on the Internet. I put in a search for tickets and Milan Guide ervices came up. I wrote a email inquiring the possibility of tickets for a specific day of our trip. Jolanta wrote back that she had a guide and a reservation at 9 a.m. for the four of us if we were interested. One always is somewhat suspicious of doing business on the Internet with an unknown company. But we were determined not to miss out on seeing The Last Supper so I wrote back to confirm. All Jolanta needed to hold the reservation was our names and a contact number of our hotel so that our guide Vittorio could confirm us the night before. That was a very pleasant surprise. No credit card to hold it? Or advance payment? Just an Internet hand shake! How refreshing! We did not hear from Vittorio the night before or the morning of our reservation. We were not sure what to think. We decided to head out to the church just in case. We were hoping that there would be the slim possibility of a no show on someone else's tickets and we could purcahse those.  We arrived at the Church of Santa Maria delle Grazie just a few minutes before 9 a.m. Of course there were no tickets to be had! We were discussing what to do next when I noticed a pleasant looking gentleman with a badge on his jacket pacing in front of  the church. When I approached him asking by chance if he was with Milan Guide Services he called out my name. What a relief. He said there was difficulty with the contact phone number for he did try to confirm. Vittorio was also relieved and very happy that we did show up. Amazing ... he was trusting us to show up. Just that in itself was a real confirmation that we chose a reputable company to do business with. Vittorio filled our hour tour with such passion and insight that we were moved greatly. He stirred our souls and our vision. We would not of had the experience of what DaVinci was trying to portray if it had not been for Vittorio. He has a vast knowledge for art, architecture, and history. Our only disappointment was that we did not have this experience with Vittorio at the start of our two weeks. For if we had we would of appreciated so much more of what we saw when we toured other places in Italy.
We would highly recommend Vittorio and The Milan Guide Service to anyone hoping to have more than a casual visit to Milan.  They are trustworthy, reliable and refreshing to do business with. It is the best euro we spent. Thank you Jolanta and Vittorio. You made our trip memorable. We wish you all the best,
 Gary and Deborah Wilson and Dan and Toni Lewis, UK
We had a wonderful the La Scala tour. Massimo was an excellent, well read and well trained guide and he gave us an fine tour. I would certainly recommend you to others traveling to Milan. I have given your name to my son-in-law who owns a meeting planning company. Thank you for excellent services you are providing.
William Miller, Erie, PA, USA
We just want to let you know how very impressed we were with our guide, Vittorio. He has a passion for the Last Supper. We were so very moved by his explanations. We felt so very informed and so well treated. That made a very positive impression on us. We will be very happy to recommend your company to any friend that travels to Milan. Thank you for unforgettable tour,
Janet and Cavin Hough, York, UK