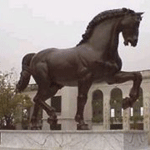 Unbelievable story of Leonardo's Horse.

Opening hours: 9.30-18.30.

Availability: every day

Meeting time: on request
Life is very busy but onnce you are in Milan do not miss the opportunity to explore more about Leonardo da Vinci. As you know Leonardo lived in Milan for 25 years in the most productive period of his life. In Milan he left some of his more impressive and significant works. Here, in Milan, you can discover works of this fascinating personality, such as the Last Supper which together with the Louvre's La Gioconda, painted by... guess who?, are the most famous, influential and imitated paintings of human history. But not only: his mysterious portrait of a musician in Pinacoteca Ambrosiana, the beautifully frescoed Sala delle Asse in Castello Sforzesco and the majestic Leonardo's horse you will also find in Milan .

The extraordinary idea of the bringing the horse of Leonardo to life was born after publication, in National Geographic magazine (1978), some of Leonardo's preparatory drawings for the horse sculpture which had been discovered a decade earlier in the National Library of Madrid. The article was read by Charles Dent, a retired airline pilot from Pennsylvania, USA, who had been whole of his life passionately interested in Leonardo's life and works. He decided that he will bring the horse back into existence, and in this way he will pay tribute to the biggest genius of all mankind. He established the "Leonardo da Vinci's Horse Inc." gathered as much information as possible on Leonardo's drawings and notes, and started the process of financing the project partially by selling pieces from his extensive art collection and partially through gathering money from the supporters of his extraordinary idea. It was not easy but his determination fired all obstacles and by about 1990 thirty people were working on the project, including bronze-casting experts, architects, structural engineers, and sculptors Nina Akamu and Rod Skidmore. In particular Akamu, born in Oklahoma of Japanese-Chinese origin, had the difficult task of developing Leonardo's drawings, most of which where just a few centimeters in size, to the scale of the final monument.

In December 1994, Charles Dent died, but the foundation that he had created continued his work for another 5 years. Finally in July 1999, Leonardo's horse arrived in Milan, almost exactly five hundred years after destroying Leonardo's clay model of the horse by French soldiers who used it ... unbelievable ... as a target for crossbow practice. The horse, in 18 tones of bronze, rests on just two of its four hooves, on a base of white Carrara marble, in the green, picturesque and peaceful surroundings of Milan's San Siro park, where it can be seen every day, free of charge, from 9.30 to 18.30.

Another casting of the same horse was unveiled in October 1999, at the Frederik Meijer Gardens, Grand Rapids, Michigan (USA).

Want to learn more about an outstanding horse of Leonardo, join one of our tours.

Previous tour: Museum Poldi Pezzoli Next tour: Cimitero Monumentale