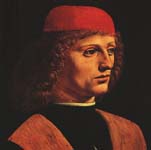 Pinacoteca Ambrosiana.

Museum hours: 10:00 - 17:30

Duration: 2 hours

Availability: Tue - Sun

Meeting time: on request
From the beginning of his life the founder of Biblioteca Ambrosiana, Cardinal Federigo Borromeo (1564 - 1631), was a real connoisseur of art and outstanding collector of paintings, old books, manuscripts, incunabula and works of art, which formed the nucleus of the present-day Biblioteca Ambrosiana. He was also a spirited writer as well as a patron of both, artists (in particular Paul Bril and Jan Brueghel called Velvet) and Academia of San Luca which was found in 1593 in Milan by Federico Zuccari. Appointed to archbishop of Milan he devoted himself to the program where culture stands in the first place. On his initiative the impressive building of Biblioteca Ambrosiana was build in 1603. In 1618 Cardinal donated his personal collection of paintings and drawings, and approximately 15,000 manuscripts and 30,000 printed books to Biblioteca. Over time the Ambrosiana art collection grew dramatically by private donations of the art collections of a wide range of patrons, artists, and art dealers.

Currently the impressive collection of Biblioteca Ambrosiana include 12000 drawings by Lombard and European artists, 16,000 manuscripts and illuminations, 3000 incunabula, and 450,000 printed books. Among this excellent collection stand out the wonderful works by Pisanello, Bernardino Luini, Albrecht Dürer, Pieter Paul Rubens, as well as such masterpieces as Raphael's School of Athens cartoon, designed for the fresco in the Vatican's Stanza della Segnatura, and twelve manuscripts by Leonardo da Vinci, including the famed Codex Atlanticus.

Between 1607 - 1618 within the Biblioteca Ambrosiana the picture gallery, Pinacoteca, was created to serve as a educational model of aesthetic tastes and inspiration for students of art Academy. In the Pinacoteca Ambrosiana visitor can meet unforgettable, world most famous paintings as the Portrait of a Musician by Leonardo da Vinci, the Basket of fruit by Caravaggio, Portrait of a Lady by Ambrogio de Predis, the Madonna of the Pavilion by Botticelli, the Presepe by Barocci, the Adoration of the Magi, by Titian, the Holy Family by Luini, Fire and Water by Brueghel and many, many others.

Want to learn more about Leonardo's masterpiece in Pinacoteca Ambrosiana, join one of our tours.