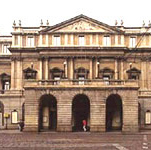 La Scala Museum - the most world famous opera house.

Museum hours: 9:00-12:00 14:00-17:00

Duration: two hours

Availability: every day

Meeting time: on request
Milan can be regarded as the temple of classical music thanks to its world famous opera house. This most famous opera house, one of the largest opera houses in Europe, was built in 1776 by Giuseppe Piermarini from the founds of Empress Maria Theresa of Austria. This impressive Neoclassical building hauses the auditorium with marvellous acustics, that can accomodate more than ... 2000 people. La Scala was inaugurated on August 3rd, 1778 with its first perfomance of Antonio Salieri's "Europa riconosciuta". The opera house own its name to the fact that it stands on the site of the Church Santa Maria della Scala. The Church Santa Maria della Scala was built in 1381 as a prayer church for the wife of the Bernabo Visconti, Beatrice Regina della Scala, a daughter of the wealthy family from Verona. For firs time La Scala was closed during the World War I. The legendary conductor Arturo Toscanini was one of its first patrons who used all his energy to reopen it in 1920. During the World War II, in 1943, La Scala was badly damaged by the bomb and was the first monument of Milan to be rebuilt and reopened in 1946. After 55 years of continuous activity La Scala was closed ( 2001) for extensive renowation which costed $67 millions. On December 7, 2004, La Scala was reopened with a memorable glamorous premiere of "Europa riconosciuta". For over 200 years the prostigious stage of La Scala have the best singers, conductors, composers and musicians of all over the world as a guests. The most famous soprano, Maria, Callas made her debiut here in 1950 singing " I Vespari Siciliani". Associated with theatre is a ballet company, a ballet school, a singing school and a museum. In the La Scala Museum is a unique display of documents and objects concerning the performing arts, dating from ancient Greek to recent times. It also carriers a fine collection of sculptures and ceramics, paintings and portraits of musicians, musical instruments, original manuscripts and posters related to the history of the theatre.


Want to learn more about famous La Scala, join one of our tours.
Previous tour: Pinacoteca Ambrosiana Next tour: Poldi Pezzoli Museum