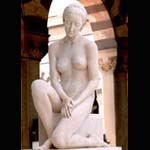 World Class Cemetaries: Cimitero Monumentale

Museum hours: 8:30 - 18:30

Duration: 1.5 hours

Availability: every day

Meeting time: on request
The end of a wide avenue running from Porta Volta brings you to the main entrance of Cimitero Monumentale, an enormous cemetery complex right in the center of Milan, worth a visit for both its historical and artistic value. The entrance, a pantheon-style building called Famedio (Temple of Fame) is made of various types of marbles and stones. It was designed by Carlo Maciachini (1818 - 1899) and constructed between 1860 to 1897 in Neo-Medieval style with visible Tuscan, Venetian and Lombard influences. The impressive entrance opens up to a splendid necropolis rich with chapels and funeral monuments, masterpieces of contemporary and classical Italian sculptures as well as Greek temples, elaborate obelisks, and other original works of metal, marble and stone, which makes the cemetery an unique open-air museum.

As far back in time as we can reach, man has conducted a never-ending, ultimately losing battle with death to gain his own mortality. Come here to pay tribute to great world composers, musicians, poets, writers, artists, models, architects, painters, politicians, educators, generals, Nobel prize winner and others (Arturo Toscanini, Giuseppe Verdi, Alessandro Mazzoni, Carlo Cattaneo, Luca Beltrami, Laura Solera Mantegazza, Medardo Rosso, Vincenzo Vela, Ettore Ximenes, Adolfo Wildt, Francesco Messina, Pietro Cascella, Salvatore Quasimodo). Explore in silence and with concentration the conscious and unconscious themes and symbolic content of the "Last Supper" by Gianino Castiglioni or to discover many very sensual images of beautiful young women carved in cold stone. Without any doubt these sensuous sometimes seductive figures of angels, nymphs, cherubs, Goddesses and Gods with enigmatic frozen smiles are links to an art celebrating the female form in both a secular and religious sense. However, very intriguing questions can be asked about the significance of the art in the necropolis. How is it that these sensual statues offer solace at times of loss? What is the significance of the link between Thanatos (Greek god of death) and Eros (Greek god of love and desire) in this very powerful funerary art form. And why is the goddess of death traditionally depicted in female form? Our guide has the answers to all your questions.
The Cimitero Monumentale is one of the truly World Class Cemeteries.

Want to learn more about this unique place, join one of our tours.