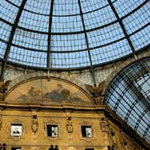 Galleria Vittorio Emanuele, the glittering heart of social Milan.

Availability: every day

Meeting time: on request
In the heart of Milan across Duomo stands Galleria. This monumental cross shaped arcade is a prdestrian passage linking spiritual Piazza del Duomo with secular Piazza della Scala. Its great glass roof seem from the floor gives a splendid view. In the mid19th century Giuseppe Mengoni, one of the best Italian XIXth century architects, was asked for refurbishing piazza Duomo. Inspired with covered shopping galleries in Paris and London, between 1861 and 1864 he designed the sumptuous covered arcade, the glittering heart of social Milan sometimes called by Milanese "Il Salotto" (the Living Room); The foundation stone of first iron and glas construction in Italy was laid in 1865 by the king of Italy, Vittorio Emanuele II, himself. Soon, in 1867 the unfinished mall was open to the public. Completed Galleria inaugurated 10 years later. Before inauguration in 1878 Mengoni busy inspecting some decorative work fell of the scaffolding meeting his death. This side remained uncompleted. Now Galleria houses numerous shops, bookstores and several bars and restaurants which invite you to enjoy a good cup of coffe, excellent pizza or other home-made Italian delicacies. The under-roof mosaics represent "four corners of the earth" Europe, Asia, Africa, and America; The floor mosaic represents arms of four Italian cities, Milan - red cross on white ground; Rome - the wolf, Florence - the lily; and Turin. - the bull. Follow tradition and spin your heels three times on the most "delicate" parts of the bull. Legend says that revolving three times on one leg placed exactly in that position brings good luck and fortune. However, there is something intriguing about this place. Maybe it is the combination of the 19th century atmosphere with ultra-modern Milan's finest stores or its unique structure but you must experience it during your visit Milan.

Want to learn more about famous La Scala, join one of our tours.