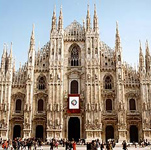 The treasures of Duomo.

Opening hours: 9:00-12:00 14:30-18:00

Duration: 2 hours

Availability: every day

Meeting time: on request
On the piazza (square) in the heart of the city stands the imposing late Gothic Cathedral ("Duomo" in Italian), the seat of the Ambrosian diocese (named after the 4th century bishop Ambrogio, the patron Saint of Milan). It is one of the largest Catholic churches in the world, third only after the St. Peter in Rome and the Seville Cathedral, and it can accommodate up to 20,000 people. The Duomo was commissioned by Antonio da Saluzzo, bishop of Milan, with considerable financial support from Gian Galeazzo Visconti, Duke of Lombardy. Building started in 1386 with the construction of the magnificent apse, and ended only 580 years later in ... 1965 with the finishing touch on the relief of the door.

The Duomo is a triumph of truly international collaboration. Architects Pellegrino Tibaldi, Martino Bassi, Francesco Maria Ricchino, Jean Mignot and others took care of the design. For the actual construction craftsmen were attracted from Switzerland, Germany, France, England, Ireland, Bohemia and Hungary. The Duomo houses many notable works of art, such as Martino Solari and Leone Leoni sculptures. No cathedral is complete without its relics, and the Duomo is no exception. It has even two ... the world famous "Holy Nail" from Jesus Christ's Cross and the rock-crystal urn with the remains of St. Carlo Borromeo. The most impressive architectural parts of the Duomo are three immense Gothic windows of finely carved marble with stain-glass that depicts scenes from the Christ's life, stories from the Bible ans New Testament, and the lifes of the Saints. The exterior of the Duomo is covered with a remarkable myriad of marble turrets, pinnacles, decorated water gutters, and more than 3000 statues! On top of the central spire of the cathedral "La Madonnina" looks out over her city far below. This 4.16 meter tall gilded statue of the Madonna was sculpted by Giuseppe Bini in 1774. You can take a close look at her from the roof terraces of the Duomo. And when you are on the roof, don't forget to admire the sprawling city below and the imposing Italian Alps to the north.

Want to really experience the Duomo? Join our tour!

Previous tour: Castello Sforzesco Next tour: Galleria Vittorio Emanuele II